Watch Las Vegas Bowl 2017: Oregon vs Boise State Live Stream Online Start Time, Live Update, Schedule, Odds, Preview, Prediction. The 2017 Las Vegas Bowl will bring together two of the great teams from the early 2010's in the Oregon Ducks and the Boise State Broncos.
If this seems like a familiar matchup, that's because it is. In 2008 and 2009, the two schools faced off in an entertaining home-and-home that ended infamously with Oregon running back LeGarrete Blount punching Boise State defensive lineman Byron Hout after a 19-8 Broncos win.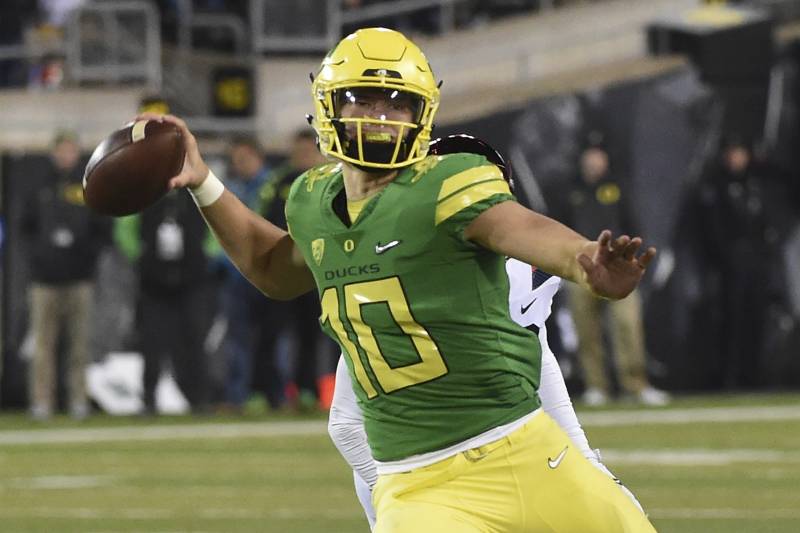 It was the culmination of a 2-0 record for the Broncos in the mini-series, and both teams were involved in the BCS picture on an annual basis.
Now, both programs find themselves just outside of that conversation. Boise State is the perennial favorite in the Mountain West Conference but hasn't finished in the Top 25 since Bryan Harsin's first year as head coach in 2014.
Meanwhile, Oregon stumbled to a 7-5 season that was marred with injuries, adding to a 20-17 record over the last three years. A win for either program would be progress in their individual quests to capture the glory of their recent runs to prominence.
The result should be an intriguing matchup that's worth tuning into on the opening day of College Football's bowl season.
The case for Oregon begins with a healthy Justin Herbert. The quarterback has made all the difference when he's been on the field for the Ducks this season.
Oregon is 6-1 with him in the lineup, averaging 52 points per game. Without him, the Ducks are 1-4 and average 15. That's at a macro level, and the individual stats are just as staggering. The sophomore quarterback has 13 touchdowns to three interceptions.
Backups Braxton Burmeister and Taylor Alie have combined for two touchdowns to seven interceptions in relief.
An Oregon team with Herbert in the lineup all season isn't likely to play in this bowl, which means the Ducks could be playing in a bowl spot that doesn't truly reflect their talent.
The Ducks will be forced to play without its head coach, as Willie Taggart is off to Florida State after just two years. However, naming assistant Mario Cristobal as the new head coach should bring some continuity to the preparation for this game.